Workshop Series: Beirut Workshop on Barriers and Enabling Factors of Local Research Capacity in Syria
Workshop Series: Beirut Workshop on Barriers and Enabling Factors of Local Research Capacity in Syria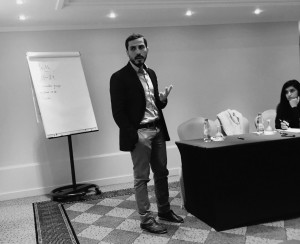 Integrity's Project Officer for MENA Sara Habachi hosted a workshop in Beirut on Thursday 23 April 2015, the third and final in a workshop series exploring the barriers to utilising local and national research from Mali, South Sudan and Syria to inform international programming. This workshop series is supported by the Netherlands-based Knowledge Platform Security & Rule of Law and is being delivered in consortium with Spring Factor and Spark.
Amongst the participants in Beirut were individuals from a diverse range of organisations, including NGOs, research consultancies and local and international researchers who are currently working on the Syrian crisis.
The workshop identified important barriers to the collaboration between local researchers and international interlocutors working on youth employment in Syria. Key findings included limited access due to security and operational issues, as well as limitations to participation as a result of diminished trust and research fatigue. In addition, participants identified a lack of research capability and the limited engagement of Syrians in programme design and implementation.
As part of the final phase of the project, our team will present the findings from all three workshops (Bamako, Juba and Beirut) in The Hague on 28 May 2015. For more information, and to register, please click here. A final report will be made public in June 2015.
If you are interested in receiving more information, please contact [email protected].