Research Summary Final Report: Local Governance in Dara'a Governorate
Research Summary Final Report: Local Governance in Dara'a Governorate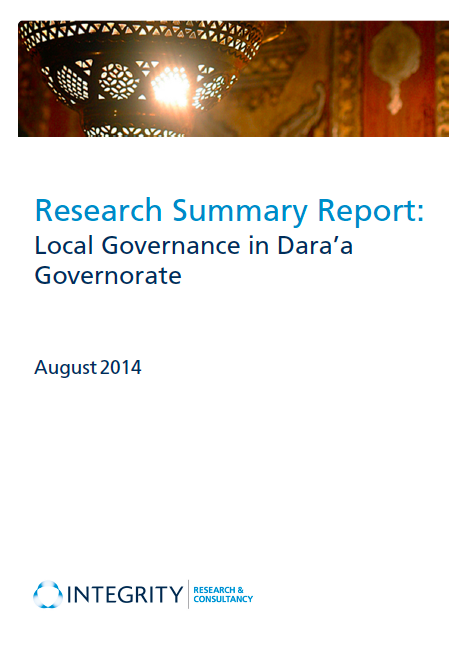 Today Integrity releases the last and final report in the Syrian Society in Conflict report series.
Local governance in opposition-controlled areas of Dara'a Governorate remains in an embryonic stage of development. Key governance entities such as Local Administrative Councils and the Dara'a Governorate Council are constrained by a range of factors. These include continuing state attacks and the targeting of key civilian infrastructure; a lack of transparency in the establishment and procedures of governance organisations; funding sources that are limited, unpredictable and which adversely affect service delivery; and an ongoing dependence upon Syrian government infrastructure for the delivery of complex services.
This research summary report provides a brief overview of the community perceptions and state of local governance in the Dara'a governorate. It draws on material from a longer report prepared by Integrity in April 2014, involving semi-structured interviewees conducted with relevant stakeholders and respondents based in Dara'a.
Integrity is publishing this research as part of a series to share our findings in a format that provides our Syrian partners with relevant information, usable tools and methodologies. This supports the mutual relationship we strive to maintain in our dealings with local research partners and underpins our ethos and approach to working with beneficiaries in fragile and conflict-affected environments.
This report is available in both English and Arabic.