Syrian Society in Conflict: Transitional Justice pt III
Syrian Society in Conflict: Transitional Justice pt III
Integrity is releasing the final report in a three-part series focusing on the current status and lessons learned relating to transitional justice and policing initiatives in opposition-controlled Syria.
Part three explores the critical role of legal professionals in the various justice and security initiatives that have been attempted or are currently in place in areas outside of the control of the government and examines the role of local governance organisations in such initiatives. Part III also provides a brief summary of lessons learned and recommendations for future efforts based upon these lessons.
Information in this paper is primarily drawn from interviews conducted between January 2013 and March 2014. It focuses in particular on cases from Aleppo, Idlib and Dara'a governorates and alludes to some of the differences between these situations. It also refers to material from other governorates outside of government-control, specifically Rif Damascus, Deir Ez-Zor, the three cantons of Rojava and areas of Raqqa.
Integrity is publishing this research as part of a series to share our findings in a format that provides our Syrian partners with relevant information, usable tools and methodologies. This supports the mutual relationship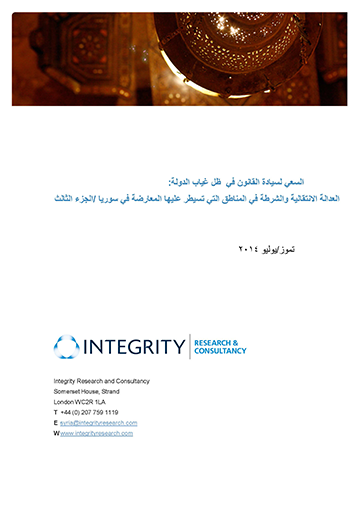 we strive to maintain in our dealings with local research partners and underpins our ethos and approach to working with beneficiaries in fragile and conflict-affected environments.