Integrity Insights: Lessons learned from apprenticeships
In the 2021/22 academic year, there were 740,400 people participating in an apprenticeship in England. Each year the number grows as employers and employees recognise the reciprocal benefits of working in this way. Morgan Simmons, Graphic Designer, speaks to Integrity's recent apprentices and together, they explain the benefits of learning on the job.
My own perspective
I joined Integrity in August 2022 as a graphic design apprentice. I had embarked on a career path that built on my passion for creativity, but I wasn't sure how to take it forward. The apprenticeship scheme provided a crucial entry point, and I was overwhelmed with joy when my application was successful.
I have loved my time at Integrity so far, and really feel that I have learnt a lot, including technical skills (using Adobe Illustrator, MS PowerPoint, and Word tools) as well as professional skills such as clearer communication, using my initiative and time management.
The support from colleagues has been invaluable. My line manager has given me clear direction and I feel very comfortable and confident approaching everybody within the company. I am treated like an individual and one of the team.
My apprenticeship experience is not unique. Integrity's apprentices span across our teams, and the work functions they occupy add valuable inputs to the company's capabilities. To date, Integrity's apprentices have worked in IT, human resources, finance, and graphic design. Our apprentices join the team as core members of staff – and are intimately involved in the business from day one. I spoke to two of Integrity's former apprentices who are now in permanent roles.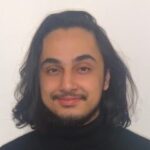 In 2023, Faisal Hariay proudly finished his one-year apprenticeship course. He has now accepted a staff role as an IT Officer.  In Faisal's words:
How has an apprenticeship benefited you?
"After completing (and during) the apprenticeship, you are debt free and leave with a handful of experience, which is what employers mainly want to see. There is no gap between learning and earning since both can be done at the same time (unlike university). Networking and being surrounded by people in professional roles improved me as a person in a way I'd have expected to occur later in life. By that I mean after university where you'd commonly finish at 21+."
What have you learnt from your apprenticeship?
"I learnt to implement my knowledge in real-life scenarios, which have actual impacts on company performance. To be more specific about my role as an IT apprentice, I had learned different advanced security measures in computers, how to manage backend services and systems, asset management, admin management, the list goes on!"
How does an apprenticeship differ from your current role?
"In my experience I see the apprenticeship role as entry level. Think of it as a cheat code, starting a professional career before everyone else in your age group – they mostly go to university and have to wait to get their degree (3 years +) and then find their professional job."
-Faisal Hariay
Hussain Miah joined Integrity as an apprentice in January 2020, and has since been promoted to Human Resources Officer. In Hussain's words:
How has an apprenticeship benefited you?
"I think it provided me with a foundation and prepared me for what I was going to experience at work. I learnt what to expect regarding the standard of work I would have to live up to."
What have you learnt from your apprenticeship?

"I have learnt how to deal with different hurdles and bumps along the way."
How does an apprenticeship differ from your current role?
"I was able to make mistakes as an apprentice which I don't believe I would be able to make in my current role. I think I have been able to mature into my role as an HR officer, but being an apprentice first provided me with the experience and skills to conduct myself better. There is still much to learn, but having had these stepping stones allows me to differentiate between the two roles. This helped me to improve as a professional and keep on improving as time goes by."
-Hussain Miah
Taking on an apprentice is a beneficial experience for both the company and early career professionals. The learning curve can, at times, be steep but the apprenticeship scheme means that the company resource grows, and we can continually bring new perspectives to our work. As Yvette Reid, Vice President Human Resources, explains:
"Integrity is proud to provide an apprenticeship route that supports early career talent. We ensure that apprentices earn a salary, gain a recognised apprenticeship qualification, and have the full support of our diverse, global team… Apprentices make a valuable contribution and bring fresh perspectives to our work. Many have gone on to join Integrity as permanent employees once their course is successfully concluded."
Read more about how Integrity supports apprentices here, and stay tuned on our LinkedIn page for any upcoming apprenticeship opportunities LinkedIn