Integrity CEO and Chief Commercial Officer attend the USAID Small Business Conference in Frankfurt
On the 3rd and 4th March Integrity CEO Anthony Ellis and Chief Commercial Officer Christina Sandkühler attended USAID's second Overseas Small Business Conference in Frankfurt, Germany.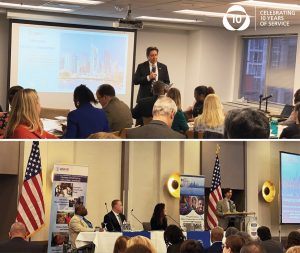 The two-day conference highlighted USAID's programming priorities and procurement needs for the Missions of Europe, Eurasia, Middle East, and Africa. In addition to networking with USAID's contracting and technical officials and prime contractors, Anthony and Christina met representatives from the Department of State, Department of Commerce, General Services Administration, Department of Health and Human Services (Centers for Disease Control and Prevention), the Millennium Challenge Corporation, and other federal agencies.
It was a great opportunity for USAID Mission program, technical and contract officials to learn more about Integrity's global capabilities and how we can help USAID achieve its mission.
Integrity is a fully-registered US small business with offices in one of Northern Virginia's fastest growing innovation hubs. Find out more about our office here.