Private Sector Perspectives In South Sudan
Private Sector Perspectives In South Sudan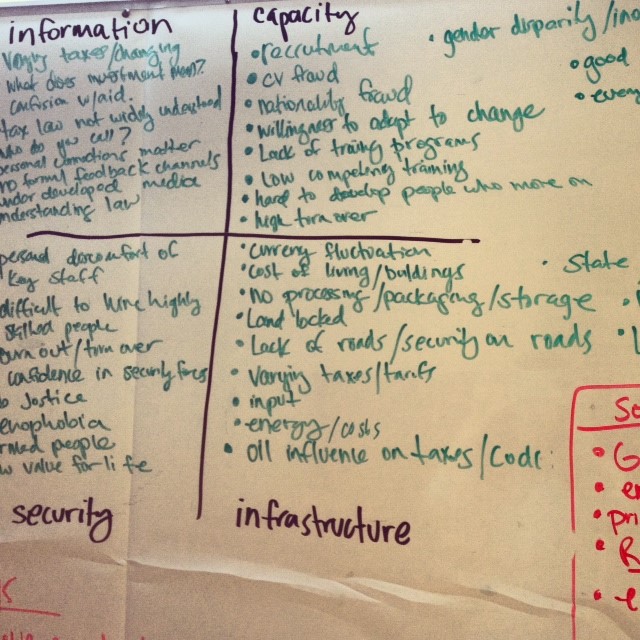 On November 14th, Integrity invited private sector leaders working in South Sudan to engage in a dialogue around challenges, opportunities and working with the international development community. Representatives from the car manufacturing, telecoms, security, agriculture, construction and energy sectors joined South Sudan Country Director Melyn McKay and Stakeholder Engagement Manager Amelia Knott at our offices in Juba.
Participants cited several shared challenges: lack of capacity, infrastructure, information and a shifting security context. Integrity worked with participants to start identifying shared solutions to these challenges, with ideas ranging from co-financed market research to a private sector working group.
This last point spoke to the group's desire to have more input into donor spending decisions. Integrity found that participants felt a deep sense of commitment to the long-term development of South Sudan and wanted to feel integrated in thinking around sustainable economic growth, infrastructure development and education. Given the often complex legal environment in which private companies operate, they would also welcome an opportunity to provide messaging to donors that have more latitude to press for policy changes within the South Sudanese national and state governments.
Integrity has been asked to chair a forum in Juba through which private sector actors can interact more meaningfully with the donor community and non-profit sector. Our stakeholder engagement team and South Sudan office will be developing this concept for implementation in early 2014.
For any further information, please contact [email protected]