Integrity Company Director Christina Sandkühler named one of Management Today's '35 Under 35' female business leaders 2019
We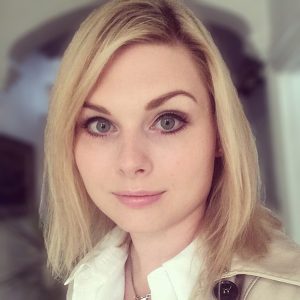 are proud to announce that Christina Sandkühler, Board Director and Director Business at Integrity, has been named as one of Management Today's 2019 '35 Under 35' female business leaders . The index is one of the UK's longest running and highest regarded ranking of its kind, whose alumnae include Stella McCartney, Martha Lane Fox and Karen Blackett.
Christina joined Integrity in 2016, where she progressed from Head of Business Development to Director Business and the youngest female board member. Christina oversees Integrity's global business development strategy, account management, consultant management and marketing and communications.
We sat down with Christina to learn about her career, her role at Integrity and her vision for the industry.
Could you tell us a bit about your professional background and past experiences?
I joined Integrity after working for twelve years in communications and investment, in a variety of sectors, and for a range of companies from start-ups to large global corporations. During that time, I was able to hone my commercial understanding and business development skills. I realised early on that the roles I enjoyed most were the ones that drove business growth and allowed me to positively influence wider strategy and culture. These aspects are core to my role at Integrity and inspired me to join the company in the first place. I also believe that transferable skillsets applied across different sectors are as crucial as specialisation; I have always aimed for a healthy mix. Starting with Integrity allowed me to move into the international development and government consulting sectors, whilst still applying my strategic communications expertise on programmes like the Evaluation and Learning services contract to the UK Government's Prosperity Fund.  
Which achievement in your role at Integrity are you particularly proud of?
In 2016, when I started at Integrity, we were a small sub-contractor that did incredibly important work in fragile and conflict-affected contexts like Syria, DRC, Somalia and South Sudan. However our reach was limited and our business processes nascent; just three years on and despite a challenging time in the wider sector, we were able to establish Integrity as a trusted prime contract-holder on a range of multi-year programmes to DFID, the Conflict, Stability and Security Fund, the UN and USAID across our seven technical service lines. We have expanded into over twelve new geographies, opened a US business and won the "Outstanding Business (SME)" Award at British Expertise. This has been achieved by the entire Integrity team working closely together, an international staff of incredibly talented, smart and dedicated individuals. I am proud to have led our growth strategy throughout that journey.
What is your vision for Integrity for the next five years? 
I joined Integrity because I believe in the vision, mission and values on which the company was founded. It is what sets us apart from other market players and drives me every day, knowing the important work our delivery teams are undertaking under difficult circumstances.  To affect positive change at a strategic level we need to do more than just the great work we are implementing on programmes as of today – we need to grow sustainably over the coming years to get our voice heard and gain a place at the table where decisions are made with donors to positively affect change across the industry. More specifically this means becoming one of the leading providers of research, analysis, monitoring, evaluation and learning services to a range of governments and international agencies. 

I also hope that within the next five years I will be able to contribute to the growth of young talent and see other inspiring young women working in Integrity's team taking slots on future Management Today's 35 under 35 lists.
How would you like to see the development sector change to better empower women in leadership positions?
There are many talented senior women in the development sector, but the top positions are still mainly held by men. We can't be complacent about this and we can't just hope this will change inevitably. Change on gender equality needs to be fast-tracked, especially in a sector that aims to do the same in beneficiary countries. We owe that to the women who are missing out on realising their potential now and for whom it is too late if change doesn't happen fast. We also owe it to the sector that we are passionate about; companies with gender-balanced leadership teams tend to perform better. Accountability on gender pay gaps through publishing of company data is a first step in the right direction.
At Integrity we have seen how important it is to create flexible, family-friendly, working arrangements and a focus on retaining women who are coming back from parental leave. What I want to see even more of across the sector is the targeted mentorship of women by both male and female mentors, something that has helped my own career immensely and that I try to live up to and pass on.