Upcoming Event: Kris Berwouts 'Congo's Violent Peace' book launch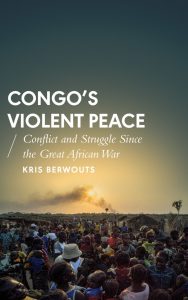 Integrity is delighted to be hosting a book launch for 'Congo's Violent Peace' by leading DRC expert, Kris Berwouts at our UK office in Somerset House, London on July 3, 2017 from 18:00 – 20:00. Integrity's portfolio in the DRC has grown significantly over the last years and we are committed to going above and beyond to understand the complex context of the country.
Synopsis of Congo's Violent Peace:
In Congo's Violent Peace, Kris Berwouts provides the most comprehensive account to date of developments since the so-called 'Congo Wars'. This ranges from Rwanda's destructive impact on security in Eastern Congo to the controversial elections of 2006 and 2011. The book also examines events such as the M23 uprising and Joseph Kabila's desperate attempts to remain in power.
It is an essential book for anyone interested in this turbulent but important country as Kris puts forward the idea that the DRC's present conflict-ridden and volatile situation is the result of a series of rebellions, international interventions and unworkable peace agreements.
More about the author:
Kris Berwouts has over 25 years' experience in peace building, reconciliation, security and democratic processes, working for both Belgian and international NGOs. Until 2012, he was the director of EurAC, the European NGO network for advocacy on Central Africa. Kris is currently an independent analyst and renowned expert on the DRC. Since 2014, he has been working with Integrity as a Lead Researcher on DFID's Evidence Analysis and Coordination Programme in the DRC.
Tickets: Free but please RSVP to [email protected] to add your name to the list. Find out more about the book and the event here.
For more information on Integrity's work in the DRC, view our projects page.