Integrity Featured in IFRC World Disasters Report
Integrity Featured in IFRC World Disasters Report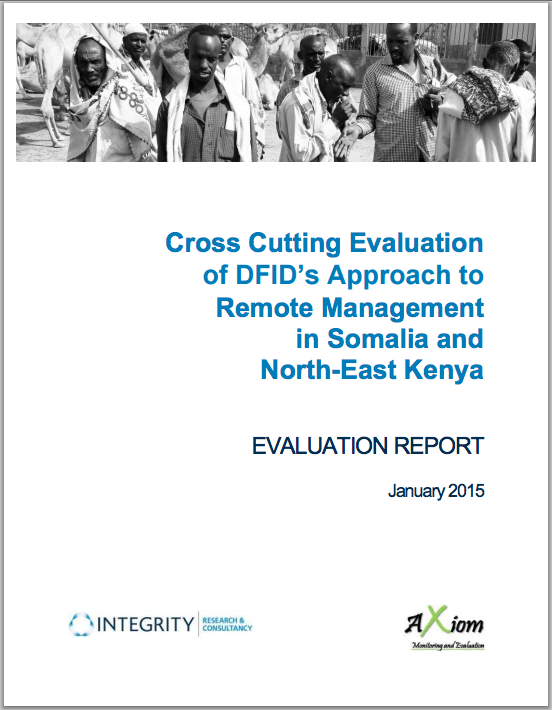 Integrity's Cross Cutting Evaluation of DFID's Approach to Remote Management in Somalia and North-East Kenya Project was mentioned in the World Disasters Report of the International Federation of Red Cross and Red Crescent Societies (IFRC).
About the Project
A joint evaluation team from Integrity and Axiom Monitoring and Evaluation conducted an independent process evaluation of the remote programme management (RPM) practices adopted by DFID and its implementing partners in Somalia and North-East Kenya. This included a review of how third-party monitors operate in this environment.
Project outcomes
The team mapped existing practices and gathered evidence to inform recommendations on appropriate remote management approaches and tools for its programming in these locations. The outputs of this evaluation were designed to enable DFID to: learn lessons regarding appropriate remote management practices for different types of programming; inform its future strategy and programming decisions in Somalia and North-East Kenya; share findings with other DFID offices and development agencies using remote practices in their delivery; contribute to the knowledge base on remote management and third party monitoring. The evaluation also addressed questions of the level of accountability of programming activities in Somalia and NE Kenya. Research conducted at the community level highlighted a disconnect between beneficiary perceptions of aid effectiveness and the programming intentions of implementing partners and donors. The evaluation addressed different ways of strengthening community involvement in remote programme management, thereby improving the contextual understanding of international actors.
Mentioned in the IFRC Report
The report mentions that "very few donors have sought to review their own risk tolerance or to adapt their systems to high-risk environments", but refers to DFID's efforts in reviewing their approach to remote management in Somalia as an example of where this has been done (p. 133).
The report also includes Integrity's findings on the issues surrounding national research capacity in high-risk environments. Integrity's evaluation found that "the prevailing criteria for the selection of local implementing partners is their ability to access locations, rather than their capacity or expertise" [in Somalia and North-East Kenya]. The report includes Integrity's finding that, while this is indeed necessary in a context like Somalia where technical expertise is low, this focus on access "further reduces the scope for engaging technically skilled partners to manage and deliver complex projects" (p. 135).
The full IFRC report can be accessed here. Integrity's Report for DFID can be accessed here.