Meet our New Head of MEL – Dr Anila Channa
Integrity welcomes our new Head of MEL, Dr Anila Channa, based in our London Office. We caught up with Anila to find out more about her background, new role at Integrity and her priorities during her first months with the company:
Could you please introduce yourself? What is your background?
"I am Integrity's new Head of MEL and have over 16 years of work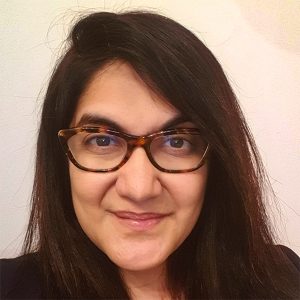 experience from across the financial sector, academia, and international development. I have undertaken various roles in my career, including monitoring, evaluation, and research, as well as project and team management. My role at Integrity is to steer the global MEL strategy and provide technical direction and oversight for Integrity's MEL portfolio.
One thing that is unique to my background is that I have a PhD in Development combined with an MBA. The former allows me to have a deep theoretical understanding of the specific challenges related to poverty and conflict, while the latter allows me to focus on delivering solutions for clients in a timely and cost-effective manner. Whenever possible, I do strive to strike a good balance between theoretical rigor and pragmatism in design and implementation, although it is often easier said than done. In terms of thematics, my specialism is education as well as gender and social inclusion, but I'm interested more widely in social and economic development as well as in the use of rigorous methods.
I am of Pakistani and Indian origin but grew up all over the world and have lived in the UK for the last ten years. During this time, I have been working primarily on programmes in Pakistan, Afghanistan, Kenya, Uganda, Ethiopia, Somalia, and Mozambique."
What was one of your highlights working on education in development?
"I have had the opportunity to consult on a variety of projects in education and development, all of which have been valuable and interesting. One of the highlights in recent times though remains the consulting work I did last year on a DfID funded project in Ethiopia, a country in the midst of a major economic and social transformation. We were supporting the Ministry of Education in developing policies to manage and train their teaching workforce in order to ensure the delivery of quality education. I worked closely with a group of Ethiopian academics in the development of these policies. We engaged with the Ministry throughout and were ecstatic when all our major recommendations were accepted! "
How do you plan to bring innovation to MEL methods at Integrity?
"I think the potential is significant. Integrity has a lean corporate structure that allows us to adopt innovative approaches faster than competitors, which is one of the things that drew me to this role. Due to this, in my view, we already have a handful of cutting edge offers, particularly in monitoring in FCAS environments, Data and Knowledge Management and Theory of Change design. I am nonetheless eager to deepen the innovativeness of our offering in a couple of ways:
Firstly, as a mixed methods specialist, I am quite keen for Integrity to lead the way in the industry in informing how to best mix methods in MEL, particularly in FCAS contexts – this is something that we are uniquely placed to do as we do extensive MEL in countries such as Syria, DRC, and Somalia.
Secondly, we have been investing heavily in our ability to provide clients with digital platforms that summarise results in a user-friendly fashion, and I want to remain supportive of our continuing efforts in this arena. We want to make it easier for policy makers and donors to understand and use findings because ultimately, that is what we do is all about.
Finally, I think the best way I can bring in innovation is by providing the right senior strategic steer and commitment to innovating. I want to help establish an environment that is conducive to learning and thinking outside the box. I am already exploring a couple of practical ideas on operationalising this with the team."
What will be your priorities within your first few months as Head of MEL?
"Integrity is at a crossroads in its growth trajectory, and the first thing on my agenda is to refresh our MEL strategy to support our growth plans for the years ahead. Importantly, I want this to tie in with our regional and service line strategies. Ultimately, this will allow us to offer clients a clearly articulated, comprehensive suite of services and capabilities and tailor it to their needs.
Of course, the strategy refresh will start with a thorough analysis of our existing portfolio so I can get to grips with what has already been achieved. The existing portfolio already has an impressive mix of different types of MEL contracts across a variety of thematics, displaying Integrity's breadth of offering. For example, Integrity facilitates learning across HMG departments on a number of projects. We deliver the learning workstream as part of the Evaluation and Learning Services to the Prosperity Fund, and are also the prime contract holder on the Global Monitoring, Evaluation and Learning (MEL) programme for the UK Government's Conflict, Stability and Security Fund (CSSF).
So, an important part of my role is to develop a deep understanding of this track record and to ensure it is articulated to clients and partners in a clear and concise manner.
Growth is not the only priority of course. We do need to keep delivering to the highest standards for our clients, which in turn helps them achieve their own goals. To that end, I am prioritizing the consolidation of Integrity's position and reputation by providing the necessary oversight for projects, and by facilitating the sharing of best practices across thematics."
Could you tell us what attracted you to Integrity?
"The unique values articulated by the organisation set it apart from the rest of the sector, but what was most attractive to me is that the values don't just exist on paper. In each strategic conversation I have participated in since I started at Integrity, I have witnessed colleagues pause to reflect on whether what we were doing is values driven. To me, that is very attractive.
I was also attracted by the quality of the team. The group is talented, and passionate, and that talent and passion translates into an energy that is palpable. It's a fairly unique culture that Integrity has been able to foster due to its origins and history, and from what I had heard, it's this culture that makes people want to stay at Integrity.
I am excited about working with this talented, passionate group to add value to the MEL business."