From Nairobi to London – perspectives on Integrity's internship programme
Patience Lulu- Operations Intern, Nairobi
I am an international relations graduate focused on peace and conflict studies from the United States International University-Africa. I developed a passion for international development while doing my undergraduate studies and this drove me to apply for an advanced diploma in project management. I wanted to not only contribute to changing the lives of people but also ensure that projects meet their intended objectives. On embarking on my career, I looked for organisations that would expose me to the duties of a Project Manager and train me on how to work with a variety of stakeholders, create realistic budgets, manage a team and ensure a project delivers quality services. It was in my search that I had the opportunity to intern at Integrity for three months.
Serving as the Operations Intern, a role that calls for immense enthusiasm and profound versatility, I supported the running and coordination of Integrity's Nairobi office including managing the coordination and participating in internal and external Integrity meetings. My duties included managing the logistics of staff and consultants visiting and moving around East Africa and updating the Kenya country guide on a regular basis for visitors. I also worked closely with the London based team in daily financial matters including tracking invoices for timely payments; asset management; and cash reconciliation. These tasks have been wide ranging and provided insights into how Integrity works as well as exposure to the East African Portfolio of projects.
The highlight of my internship, however, was working with an amazing team of professionals from whom I have learnt much and the exposure I've had to the Learning and Monitoring Programme Somalia (LAMPS) managed by Integrity. Not only do I now have a better understanding of the importance of Third Party Monitoring (TPM) in project delivery but also observed first-hand the efforts that go into TPM projects, particularly in information management, analysis and dissemination practices. My involvement in this project ignited the urge to develop into a fully-fledged project manager in the future.
I've been honoured to have been offered an internship that carries such responsibilities, I've learned how to manage my time and prioritise tasks that are both important and beneficial to my growth and development as a project manager. It takes time, effort and attention to detail to balance a large number of projects at one time and I have learnt that one cannot afford to be distracted from the ultimate goal. The experience, therefore, helped me refine my communication skills, organisational methods, and how I manage my time in a professional setting. By applying my new skills, I am able to confidently prepare myself for a project management role in the professional world. Needless to say, this internship was a capstone to my project management career and a pinnacle point in my life.
Post script: Integrity is very pleased to announce that Patience will be staying with the organisation following her internship as the Assistant Programme Manager for the Learning and Monitoring Porgramme – Somalia (LAMPS).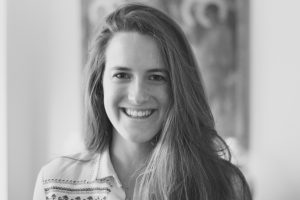 Pauline Coste – Business Intern, London
As a graduate with a Masters in Development Studies, I always felt that the best place for me to begin a career in international development would be in a consultancy. My experience in Integrity's Business team is equipping me with precisely the knowledge and experience I desire to learn, providing me with a strong foundation on which to continue developing my path in international development.
Over the last six months, I have worked across all four of the Directorate of Business main functions: business development, consultant management, account management and marketing & communications in all of Integrity's key geographies. I have learnt: how to track and assess potential opportunities for a range of donors, how a project is procured from start to finish, how to build a team with the best experts, the intricacies of consortium building and constructing competitor analysis. Amongst all these experiences, the following two have been the highlight of my time at Integrity for far:
The Integrity team
Whilst at Integrity, I have felt supported by staff from across all departments. Integrity has an ethos of hard work and also of collaboration, openness and being incredibly friendly. Over the six months there were significant changes in my line management and immediate team as new members joined. Although this was challenging, it was an important learning curve as I gained adaptability, independence and confidence that I could support new members of staff. In this instance, teamwork was essential to develop trust and respect for one another's ideas and work methods.
Working on Integrity's DRC portfolio
As a French speaker, I was quickly involved in Integrity's DRC portfolio which has become my main geographical focus at Integrity. I am learning about the DRC's history and current situation, have spoken to many national and international consultants, met leading DRC experts and developed a strong understanding of programming in the country. As the DRC projects are already in delivery, I work directly with Integrity's Services and Operations teams which is giving me a well-rounded understanding of Integrity and its project cycle as a whole.
My time at Integrity continues to be an invaluable experience as I learn the true meaning of teamwork, gain confidence to express my ideas and become adept at multi-tasking. Integrity is a company that values its interns and makes them feel as an integral part of the team with responsibility and experienced team members to mentor you from the very first day. Over the next six months I look forward to continuing developing my skills as a part of Integrity's Business team.
Postscript: Integrity is pleased to announce that Pauline will be staying at Integrity for a further six months.